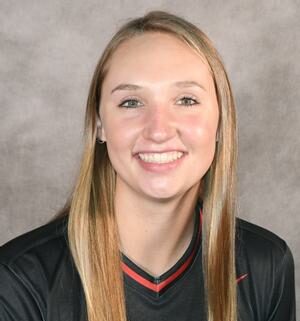 Hitting, Infield, Outfield
Current Elite Club Level Coach for 3 years
St. Cloud State University Player
Graduated from Waconia High School
From scsuhuskies.com:
2022: Weinberger took home multiple honors at the conclusion of 2022, as she garnered both Second Team All-NSIC and Gold Glove honors for her play in right field. The Gold Glove honor is the second for the junior, who was also named to the NSIC's Gold Glove team in 2021 for her play in right field. It wasn't just Weinberger's defense that impressed the conference coaches, though. As a junior, Weinberger went 51-148 at the plate for a season batting average of .345. She improved her numbers in conference play, as Weinberger only trailed Vanden Langenberg in batting average (.389) and hits (37) in NSIC play. She additionally ranked sixth in the conference in total (16) and NSIC only (11) doubles and just missed the top-10 in batting average and hits.
2021: Weinberger made quite the impression in her first season with St. Cloud State, as she earned D2CCA Second Team All-Region honors for her play as a right fielder and first baseman. In her first official season with the Huskies, Weinberger hit .400 on the season with 52 hits in 130 at bats, including a team-leading 11 doubles, one triple and three home runs for 74 total bases. She tallied 28 RBI while splitting time between first base and right field and committed just one error in 44 games in the field. She became the first freshman in program history to earn NSIC Gold Glove honors for her play in right field during the conference season. As St. Cloud State's starting right fielder for 22 of the team's 26 conference games, Weinberger tallied 44 putouts and one assist in NSIC play with zero errors. She additionally was a force to be reckoned with at the plate, posting a .397 batting average in conference play with 31 hits, eight of which were doubles, in 78 at bats. Amongst her teammates, Weinberger ranked fourth on the team in RBI (15) and third in slugging (.577) against conference opponents and was the team leader in doubles (8). Overall, she hit an impressive .420 during the regular season, with 50 hits, 11 doubles, 1 triple, three home runs, 28 RBI and 72 total bases.
2020: In her first season with the Huskies, Weinberger appeared in 21 games with 13 starts in the outfield. She went 8-44 at the plate with three runs, a double and three RBI and compiled nine total bases. In the outfield, Weinberger tallied 16 putouts and did not commmit a single error.
High School: Weinberger was a four-year letter winner at Waconia, leading the Wildcats to state appearances during the 2017 and 2018 seasons. She batted over .500 as a junior in 2018 with an OBP of .551 and slugging percentage of .577. As a first baseman, she committed just one error in the field for a .995 field percentage and earned All-Conference and First Team All-State honors that same season. Additionally, Weinberger is a four-time Academic Excellence Award winner and is a two-time team Golden Bat Award winner, as she had the highest batting average on the Waconia high school team in both 2017 and 2018.
Personal: Weinberger chose St. Cloud State because of the campus size, athletic facilities and the opportunity to play softball.