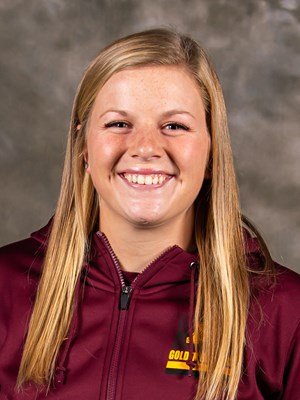 Infield, Hitting, Pitching
Clinician
Club Coach for 4 years
Played for the gophers for 5 years
Graduated from Rogers HS in 2016
From GopherSports.com:
2020 SEASON 
• Season ended on March 12, 2020, when the Big Ten and NCAA announced they were ceasing competitions and championships because of COVID-19 public health concerns. 
• Started all 25 games of the shortened season at third base.
• Hit .203 with three doubles, three home runs, 10 RBIs and scored 10 runs.
• Recorded a .971 fielding percentage at third base with 48 assists and 18 putouts.
• Drove in a career-high five RBIs and launched two home runs against Georgia Southern at Auburn Tournament on Feb. 29.
• Blasted a sixth inning game tying home run at Hawaii in what would be the Gophers final game and victory of the season.
2019 | JUNIOR SEASON 
• Started 60 games at third base.
• Was named to the All-Big Ten All Defensive Team with a .949 fielding percentage and 122 assists on the season.
• Hit .222 with seven doubles, a triple, seven home runs and 22 RBIs.
• Went a perfect 8-8 on stolen bases.
• Recorded three hits, two home runs and four RBIs against Kent State (Mar. 1)
• Was named to the 2019 Big Ten All Tournament Team with home runs against Purdue and Northwestern.
• Academic All-Big Ten
2018 | SOPHOMORE SEASON 
• Played in 36 games while starting in 17 of them.
• Played as a shortstop, left fielder, right fielder and designated player
• Went 2-for-3 in series finale against Iowa with two doubles (Apr. 13)
• Drove in a pair of runs against New Mexico State (Mar. 17)
• Academic All-Big Ten
2017 | FRESHMAN SEASON 
• Appeared in 17 games with one start
• Saw action in first collegiate game as a pinch runner and recorded one run against Texas
• Notched her first collegiate hit against Nebraska
• Picked up her first collegiate start against Penn State at shortstop.
• NFCA All-American Scholar Athlete
HIGH SCHOOL
Graduate of Rogers High School (2016)
• Five-time letterwinner in softball, two in cross country and three in Nordic skiing
• Holds high school records for batting average, runs, hits, doubles, triples, RBI, stolen bases, ERA, wins, shutouts and strikeouts
• Five-time All-Conference honoree in softball
• Second Team MaxPrep Sports All-American (2016)
• Mississippi 8 Conference Pitcher of the Year (2013, 2014) and MVP (2015, 2016)
• Athena Award winner (2016)
• Star Tribune Metro Player of the Year (2016)
• Play Ball! Ms. Minnesota Softball (2016)
• Won two national championships with Minnesota As club team (2016).
PERSONAL
• Daughter of Jim and Karen Kemmetmueller
• Has two brothers, Dennis and Jake along with two sisters, Sara and Emma
• Majoring in nursing.